Eliminating the consumption and use of bottled water and making the switch to reusable water bottles is one of the biggest ways you can decrease the amount of plastic waste in your life. If you've already made the switch, and are just looking for a new drinking vessel, head straight to our reviews of the best water bottles below. We've compiled a comprehensive guide of the best water bottles of 2018 to make your shopping easier.
If you want to know more about the types or benefits of the best water bottles, click through the table of contents or keep scrolling to our sections below. This article will outline some basic facts about the harmful effects of plastic water bottles, and water waste, as well as some helpful tips for you to be able to integrate reusable water bottles anywhere into your life and routines.
---
20 Best Water Bottles: Comparison Table
Our comparison table of the best water bottles is below- giving you an easy way to look at all of our product suggestions. If you're on mobile or a smaller screen you might have to click the green plus signs to see more information.
Right now we have the table in the same order as our reviews below, so you can reference it to access more information. It's organized by type of water bottle, so you can easily compare price range, popularity, and features.
| Image | Water Bottle | Type | Sizes (oz) | Colors | Cost | Popularity |
| --- | --- | --- | --- | --- | --- | --- |
| | Hydro Flask | Stainless Steel | 12, 18, 21, 24 | 15+ | 💰💰💰💰💰 | ⭐⭐⭐⭐⭐⭐ |
| | Klean Kanteen | Stainless Steel | 12, 16, 20, 40 | 7 | 💰💰💰💰 | ⭐⭐⭐⭐ |
| | S'well | Stainless Steel | 17, 25 | 20+ | 💰💰💰💰 | ⭐⭐⭐ |
| | Rambler YETI | Stainless Steel | 18, 26, 36, 64 | 4+ | 💰💰💰💰💰 | ⭐⭐⭐ |
| | LifeStraw Go | Filtered/Plastic | 23 | 7 | 💰💰💰💰 | ⭐⭐⭐⭐⭐ |
| | Nomander Collapsible | Collapsible/Silicone | 22 | 8 | 💰💰💰 | ⭐⭐⭐⭐⭐⭐ |
| | Vapur Element | Collapsible | 23, 34 | 5 | 💰💰 | ⭐⭐⭐⭐ |
| | Amphipod Hydraform Jett-Lite | Running/Plastic | 20 | 4 | 💰💰💰💰 | ⭐⭐ |
| | CamelBak Circuit | Hydration Pack | 50 | 5 | 💰💰💰💰💰 | ⭐⭐ |
| | Aquasana | Filtered/Plastic | 20 | 5 | 💰💰💰💰 | ⭐⭐ |
| | Kor Nava | Filtered/Plastic | 21, 24 | 7 | 💰💰💰 | ⭐⭐⭐ |
| | GRAYL Ultralight | Filtered | 16 | 4 | 💰💰💰💰💰 | ⭐⭐⭐ |
| | bkr | Glass | 14.3, 16, 26 | 12+ | 💰💰💰💰 | ⭐ |
| | Purifyou | Glass | 12, 22, 32 | 8 | 💰💰💰 | ⭐⭐⭐⭐⭐ |
| | Welly | Bamboo/Stainless Steel | 12, 18 | 3 | 💰💰💰💰 | ⭐ |
| | Contigo Ashland | Infuser | 24, 26 | 4 | 💰💰 | ⭐⭐⭐ |
| | Live Infinitely | Infuser | 32 | 10+ | 💰💰 | ⭐⭐⭐⭐⭐ |
| | Contigo Kids | Kids | 14 | 6 | 💰 | ⭐⭐⭐⭐ |
| | Klean Kanteen Kids | Kids/Stainless Steel | 12 | 3 | 💰 | ⭐⭐⭐⭐⭐ |
| | Nalgene Tritan Grip-N-Gulp | Kids | 12 | 20+ | 💰💰💰 | ⭐⭐⭐ |
20 Best Water Bottles of 2018: Reviews and Best Brands
In this review section we're going to breakdown the best reusable water bottles for you. We've given all of the water bottles on our list an "award" for what we feel they excel at. We do this so shoppers can hone in on the features you're looking for. The list is somewhat organized by types of water bottles, but there is some crossover between kinds.
We've also given extra shout-outs to the companies that are going above and beyond to create eco-friendly water bottles and businesses! If we've missed one of your favorite brands, or go-to water bottles, feel free to contact us. We're always interested in new brands doing sustainably innovative things.
Below the review section, we have comprehensive shopping guide that runs through the most commonly sought after and trending types of water bottles. You can give that a quick read through if you want to understand more about why we chose the water bottles we did for our list.
Best Vacuum Insulated Water Bottle
Hydro Flask exploded in popularity over the past 5 years and has become one of the most recognizable water bottle brands. Our starter suggestion is the standard mouth design, but their wide mouth and straw lid types are also excellent. They were one of the first to come up with a durable dual-layer insulation that didn't leak and helped control temps. The TempShield technology that they've patented keeps cold beverages at a nice cool temp for up to 24 hours. Want some coffee? They double as a 6-hour heat-protected thermos. The best part? Your Hydro Flask is backed with a lifetime warranty, so even though you're paying a bit more for a stainless steel water bottle, it's going to be worth the cost in the long run.
Best Stainless Steel Water Bottles
The ones that started it all. Klean Kanteen is a brand that was started by a family because there were no stainless steel options on the market, but now theirs is arguably the best stainless steel water bottles available. That's hard to comprehend now, as they have quickly become one of the most common types available. 
Their stainless steel water bottles come in double or single walled versions. They have expanded their line to include tumblers, as a great solution for getting coffee or drinks to go, as well as food canisters that keep your snacks cool. We've featured here their wide mouth insulated stainless steel bottle, but you can't go wrong with any of their products.
Klean Kanteen has had a mission since the early 2000's to stop the waste that disposable water bottles, cups, and containers create.
They have pushed to educate about how hard plastic is on our environment by starting the Bring Your Own movement, fueled by short films, conversation, and by creating products that are so great, you won't want to use anything else.
Best Looking Stainless Steel Water Bottle
If you haven't seen S'well you haven't been paying attention. These stylish yet functional vacuum insulated water bottles can be seen in the hands of many at gyms across the US and in many popular fitness and sporting goods stores. What we love about them besides the variety of looks that their available in, is their functionality. No matter the size, they are all the right size for a cup holder (finally!). The triple-walled build means no condensation, and increased temperature control. The cap is even made from stainless steel!
Besides making a functional and great looking reusable water bottle, the owner of S'well looks to eliminate the waste of plastic water bottles in a practical way. S'well partners with many charities including American Forests, and UNICEF USA. Since starting in 2010, S'well is now the fastest growing US Company owned by a woman. It definitely takes more than a good looking product to reach that goal.
Best Water Bottle to Keep Drinks Cold
Yeti was originally all about making coolers for outdoor sports, and they have absolutely mastered that with a high end cooler that will keep your drinks and food chilled all day. The Rambler is just a smaller version of that, built to keep drinks cold for up to 24 hours. We've shared one of larger versions that would be great for camping or sharing water between more than one person, but it is available in many sizes. The Yeti technology makes the best water bottle to keep drinks cold for the whole family.
Best Water Bottle for Hiking
The LifeStraw Go wins by a landslide (or should we say water slide?) as the best water bottle for hiking. The reason: the 2-Stage Integrated filter can safely remove bacteria and protozoa from lakes and streams, providing you with access to safe drinking water almost anywhere. The LifeStraw Go is made with BPA free plastics and is leak proof. It can hold up to 23oz of water at a time- but when you can refill anywhere, size isn't necessarily a factor.
It also comes with a carabiner and strap to assimilate to your existing travel pack. It's arguably also one of the best filter water bottles on the market as well.
As an added bonus, we really love what LifeStraw is doing as a company. They are committed to bringing safe water, and sustainability education to those in need across the globe. Their mission doesn't just provide filters, but also training and education to communities and children. Every LifeStraw purchase leads to one child receiving safe water for an entire school year. To learn more about their efforts to create a more sustainable world, check out their website and story.
Best Collapsible Water Bottle
Nomander is a fairly new company, established in 2015, that has made one of the best collapsible water bottles we've seen. Its portability doesn't take away from the durability or structure, so you don't have to worry about leaks, or rigidity. The silicone used is 100% food grade, and free of BPA, BPS, PVC, phthalates, lead, latex, and other toxins (phew! That's quite a list). We also love that it features a wide mouth opening, so you can add ice to your water to keep it cool.
Runner Up: Best Collapsible Water Bottle
It was a close race between the Vapur and the Nomander collapsible bottles. We would almost label this one as more of a reusable pouch rather than reusable water bottle- but it serves the same purpose. There's a few reasons why we decided to add them in to our review section. They are super high quality, durable, and hold up to 34 ounces of water.
We also investigated Vapur as a company and saw that they are active partners with organizations such as National Parks Conservation Association and Leave No Trace. They've also started their own organization called Drops of Hope, that is working to make disposable water bottles a thing of the past.
Best Handheld Water Bottle for Running
For those who don't want to deal with a hydration pack while walking or running, we suggest this Amphipod Hydraform. It's easy to hold onto while running and has a storage pocket big enough for your phone, extra nutrition, or keys. The sleeve is all washable and the plastic is BPA free. Avid runners report that it's just about the right size to keep you hydrated on a 10-15 mile run.
Best Running Water Bottle (Hydration Pack)
CamelBak is still at the top of the food chain when it comes to hydration packs. When compared to other brands, they just have a more consistent overall approach to quality and effectiveness. This hydration vest/backpack hybrid holds 50 Ounces of water and has plenty of room for phones and keys without weighing you down more than you can handle. It's also made with reflective material to help keep you safe and visible during morning and evening runs.
You can also follow CamelBak's efforts to eliminate the use of disposable plastic water bottles by following #DITCHDISPOSBLE on Instagram.
Best Filtered Water Bottle for School Sports
If you're looking for a filter water bottle but need it to be accessible for school, sports and other outdoor activities, we suggest the Aquasana Active bottle with filter. The filtration system removes harmful contaminates but leaves in minerals that your body needs such as potassium and calcium. The plastic is BPA free and non-toxic, and each filter lasts for 80 gallons (which is the equivalence of 600 plastic water bottles! Yikes!). If you're still held up on the taste of tap water, you needen't be anymore!
Best Filter Water Bottle
That's right, even we aren't past pageantry. The best looking filter water bottle is by far (in our humble opinion) the KOR Nava. KOR, like EcoKarma, is a brand all focused on balance and finding your center. We say they've found it with this water bottle made of BPA-Free Eastman Triton polyester, and a filter that's made from 100% pure coconut shell.
We love their integration of using a renewable resource as a filter to give you great tasting water. They also have created a water bottle with a straw that is much more hygienic than other designs, as it completely seals it under the cap.
Best Insulated Water Bottle With Filter
GRAYL has made perhaps the best insulated water bottle with filters. The design is super lightweight, which is what makes it so great for traveling. It also purifies water from anywhere in the world in 15 seconds with just a click of a button. The filter takes out particulates, chemicals, and heavy metals. It will also eliminate bad smells and tastes to give you clarity and better overall flavor.
GRAYL also receives our praise for taking the 1% pledge as a business and have committed to give 1% of their sales to preserving, restoring, and protecting the natural environment.
Best Glass Water Bottle
The bkr glass water bottles can be credited with starting the glass water bottle trend- unless you count repurposed mason jars. We love the look of the textured silicone cover, but if you want something simpler, go with the original soft silicone protective sleeve. Glass is a great alternative to plastic, and the shape and size of the bkr bottles make them easy to tote around.
Though the brand is a little more focused on a chic design and health than the environment, they've made choices that have put them ahead of many competitors by using much more sustainable components, earning the title of best glass water bottle from us.
As far as reusable glass water bottles go, they are not all made equal, but those that do it best are all worth a mention. But of course, we are here to simplify things for you. If you're not into the stylish look of the bkr water bottle, and want something a bit more practical, we suggest Purifyou. They make one of the best glass water bottles that is a bit sportier in design. They chose glass as the only material that they will make reusable water bottles with, because when the time comes, glass is 100% recyclable. The silicone cover and cap are also safe and BPA free. The interior of the cap is made from stainless steel, making sure your water never even comes in contact with plastic.
Purifyou is a small company, and family owned and operated. They have placed sustainability at the core of their values and want to help in more way than one. A portion of their water bottle profits are sent directly to efforts to build clean water wells for impoverished communities throughout the continent of Africa.
Best Bamboo Water Bottle
Honestly, we don't know where to start when it comes to talking about the features of a Welly water bottle. Welly is a vacuum insulated stainless steel water bottle, featuring a unique outer layer of bamboo. Bamboo is a great renewable resource that's also durable with a clean finish. These unique features are all topped off with an included infuser that can be used for coffee, tea, or flavored water on the go.
Welly also has partnered with charity: water to create a business model that supports the building of wells one community at a time. They also have helped kickstart the trend of using Bamboo as a part of water bottle construction. Welly is definitely one of our new favorite brands!
Best Infuser Water Bottle
In our overview of types of water bottles, we mention Contigo as a brand that got on board with the water bottles with straws trend, so it's not surprising that they are succeeding in the fruit infuser game as well. We love the unique design of the Contigo Ashland Infuser Water Bottle, which has the fruit infuser built as a strainer that inserts near the bottom of the water bottle. It's easy to remove, clean, and refill after use.
Contigo has also made a unique water bottle straw system where the straw is protected by the cap, but it easily clicks open one handed.
They are a brand that can be trusted to make leak free water bottles, and they back their product with a lifetime guarantee.
Contigo also has launched a Rethink. Reuse. Campaign that we can get behind. You can read more about their impact on reducing waste, as well as some interesting data they've provided about plastic waste on their site.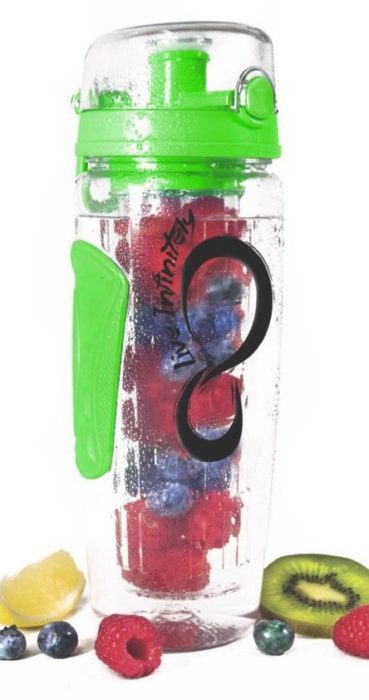 If you're looking for a cheaper form of the infuser water bottle, one of the highest customer rated models comes from Live Infinitely on Amazon. Their lightweight fruit infuser water bottle holds up to 32oz of water. The flip-open top with quick release protects your mouthpiece from unwanted germs but can still be operated one handed. The removable fruit infuser is also easy to clean. As a plus, they cover everything with 100% satisfaction guarantee, and throw in a free E-Book for flavored water recipes as well.
Best Kids Water Bottles
Contigo makes a variety of water bottles for kids that are all durable, leak proof, and backed by their lifetime guarantee. This AUTOSEAL Trekker edition is our favorite. Ditch the straws and extra cleaning! This design will give your kids easy access to hydration at the click of a button. They are 100% BPA-free and dishwasher safe. Most of their kids water bottles come in two packs, so you'll get the most for your order.
Klean Kanteen makes our list again with a water bottle that's great for the environment and for your kids. This bottle is the perfect size, and is single wall stainless steel, keeping it light weight for your kid to tote around easily. Though our photo features the sport cap lid, there's also a sippy cup option that you can buy (also available as just a replacement lid) to help prevent unnecessary spills.
Best Toddler Water Bottle
Nalgene is a Water Bottle giant, and while they haven't quite conformed to many of the current trends, they are still making long-lasting, high-quality products. When it comes to finding the best toddler water bottle, those are two things you definitely want to have. Nalgene Tritan Grip-N-Gulp is made with BPA Free Plastics and metals. The Rubberized lid will help the durability while also being gentle towards on your child's teeth and mouth. The size will make it easy for your toddler to tote around, and Nalgene even boasts that you can fill it with grape juice and trust it not to spill.
Nalgene also has some great information about plastic waste on their site. It's presented in an interactive way that would be great for sharing with your kids.
---
Types of Water Bottles
Trying to decide what type of water bottle is best for you? Here's a rundown of the most popular types of water bottles to help you narrow down your options.
Stainless Steel Water Bottles
The best stainless steel water bottles will be made from 100% food grade stainless steel. Look for water bottles without plastic lining on the outside or inside of the bottle. If the cap is made from plastic, check to make sure it is BPA free, as well as free from other harmful toxins.
Glass Water Bottles
Glass water bottles have a cult following because of people who like the taste of water from glass better. We must admit- they might be on to something. The best glass water bottles will likely be covered with some sort of removeable and washable silicone to protect it from bumps and drops. This also makes it easier for you to grip. The most durable and shatter resistant glass water bottles are likely to be on the heavy side. They work best for on your desk at work, or on your night stand.
BPA Free Plastic Water Bottles
The best plastic water bottles will feature BPA, lead, and toxin free plastics. Look for a shatter resistant build, as well as replaceable parts such as lids. This can add a lot of life to your water bottle and save you more money.
Insulated Water Bottles
If you're looking for a reusable bottle that will help keep your beverages cooler or hotter for longer, look for insulated or vacuum insulated water bottles. The best insulated water bottles will likely be stainless steel or a high-quality plastic. The feature dual walls that prevent condensation and help keep the outside air temp from impacting the contents of the bottle as quickly.
Water Bottles with Straws and Click/Flip Lids
Camelbak was really the first brand to popularize the flip straw design, and it makes drinking water on the go a breeze. Many other brands have attempted to ape the design and have altered it to fit different needs. The best water bottles with straws will feature a leak proof design, and a way to flip or lock the straw down to prevent it from getting dirty or breaking. You should also look for replaceable parts that are easy to clean, or brands that come with a cleaning kit.
Similarly, Contigo was the king of the click style lids, which function like flip lids as well. The best will be leak proof, but easy to operate to make drinking a bit easier than having a screw top lid.
Filtered Water Bottles
Getting a filtered water bottle can be a great way to get that bottled water fresh taste while still ditching the waste. After Brita made the filtered pitcher a common kitchen accessory, it paved the way for smaller versions to end up in the hands of thirsty humans everywhere. Now there are a lot of brands making filter water bottles that ensure you have great tasting and clean water no matter where you are.  Their filter does only last for 40 gallons. However, that still comes out to about 2-3 months worth of drinking water if you use it regularly.
Infuser Water Bottles
This is another type of water bottle that was first popular in pitcher form. An infuser water bottle typically features a center attachment that can be filled with berries, cucumbers, mint, and more. It's the best way to give your water some life on the go. The best infuser water bottles will be able to flavor your water without letting too much of the pulp escape.
Running and Hiking Water Bottles
The best running water bottle is going to be similar to the ones that are for hiking. We highly recommend backpack water bottles, water bottles with straws, as well as light weight collapsible water bottles..
Eco Friendly Water Bottles
While it can be argued that all reusable water bottles are better for the environment than bottled water, there are some options out there that take things up a notch. Look for brands that promote ethical and sustainable manufacturing, using recycled or renewable materials. Bamboo water bottles impress us, to say the least. BPA-Free, Non-toxic, and Non-Leaching are all labels you should look for as well.
Kids Water Bottles
Reusable water bottles for the whole family can make a huge impact on habits for your kids as they grow up, and it will save you a lot of money and time in the long run. These water bottles are affordable, durable, and kid-friendly. Kid-sized versions of most popular brands exist, and often come with a fun look to them to help encourage the healthy habits even more. Things to look for with a kid's water bottle:
easy to carry
replaceable parts
easy to clean and fill
spill-proof
shatter-proof
---
Benefits of Reusable Water Bottles
If you're needing some persuasion on why you should buy a high-quality water bottle, look no further! We've got plenty of great reasons here.
Reusable= Eco Friendly Water Bottles
Drinking water from the tap instead of buying it makes a massive impact on shrinking your personal carbon footprint. Taking a water bottle with you on the go can also decrease the water waste produced by water fountains. All that water that "misses your mouth" has to be retreated and cycled back through water treatment plants.
Further down the page we get into some of this a bit more extensively. We list some memorable facts that can keep you motivated to get a reusable water bottle.
Monitor Your Well Being
The 8×8 rule is one we grew up learning. Adults should drink 8 ounces of water, 8 times a day. Altogether this equals a half gallon, or roughly 2 liters. How do you keep track of that? At the end of the day, it's nearly impossible to remember how much you drank. Having a water bottle can help you monitor how much you're drinking. You can also set attainable goals for yourself by determining to need to refill the water bottle by a certain time during the day. (24-ounce water bottle= Refills at 8am, Noon, 4am, will get you enough water for each day!)
Here are some common symptoms of dehydration that many of us face daily, but tend to treat with other "remedies"-
-Headache
-Fatigue
-Dizziness
-Dry/Itchy Skin
-Lack of Focus
-Hunger
Sound familiar? If you're feeling tired near the end of the work day, it can often be fixed with a glass or two of water and a quick walk around the block! A reusable water bottle can be handy for both of those activities.
Save Money
Bottled water is expensive, especially when you live somewhere with clean drinking water that comes straight out of the tap. Your water bill and taxes already pay for water filtration, wasting more just for a flavor preference just isn't worth it. If flavor is an issue for you, you can try a filtered water bottle, pitcher, or faucet attachment. Likely your taste buds will adjust over time. You could also investigate buying an infuser water bottle and add some flavor and nutrients to your daily intake of H2O.
Fits Your Needs
If you've read through our review section, you probably noted all the different types and sizes of water bottles available. You can find a water bottle to fit almost any need you may have. Hiking water bottles can be everything from a clip on collapsible pouch, to a full-on backpack. Infuser and filtered water bottles are newer to the market and are heavily increasing in popularity. The options are endless (which is why we narrowed them down for you in our Best Water Bottles Review Section!)
Longevity
Water bottles aren't what they used to be, and companies are spending a lot of time making durable products that will last a long time for you. Today a quality water bottle with replaceable parts can be found for around $20. Manufacturer warranties usually cover them for customers. For an upfront investment, you're getting plenty for your dollar.
Reusable Water Bottles vs. Plastic Water Bottles
If you've already eliminated your purchasing of bottled water and made the switch to reusable water bottles, you might not need the information below. It is a nice refresher, and good incentive to help educate those around you.
Why Should I Quit Buying Bottled Water?
Likely, the only reason you're still buying bottled water is due to the convenience.
But how much is that convenience worth?
If you're in the US, it's more than likely that you have access to clean drinking water straight out of the tap. This is something that 49% of the global rural population doesn't have. It's going to be all about breaking your bad habits, which is something that takes practice and commitment. If you still need persuading, think about the following the next time you're in the store:
Every time I buy bottled water I'm… (click each one to expand)
[accordion id=my-accordion"] [accordion_item title="Wasting Oil" parent_id="my-accordian"]The bottled water industry uses almost 17 million barrels of oil every year in the manufacturing and delivery process. Note: these statistics are only for water bottles consumed in the USA.[/accordion_item]
[accordion_item title="Wasting Energy"]Bottling water uses a tremendous amount of power.[/accordion_item]
[accordion_item title="Wasting Money"] If you drank the suggested amount of water from the tap, a years' worth would cost less than $0.50. The same amount bottled is over $1000.[/accordion_item]
[accordion_item title="Harming Others"] The waste that bottled water creates often ends up in our oceans and harming those that dwell within it. We've all see the photos of sea turtles with their heads stuck in plastic soda can rings. But the damage of our waste extends much further. The percent of fish containing microplastics in their stomachs is increasing every time new research is conducted. A recent study in Ireland found that 73% of the fish they examined contained microplastics of some kind.
Read More. [/accordion_item]
[accordion_item title="Forgetting the 3-R's!"] While recycling is a great idea, if you're not reducing and reusing then you're missing the point. Only 23% of water bottles are recycled annually. That leaves a lofty 38 billion water bottles floating around our planet… Every. Year. If we aren't buying them, then there's no risk of creating this unnecessary waste.
[/accordion_item]
To read more facts like these or to share them with others- check out Ban the Bottle and learn how you can help the cause.
---