Aside from being made from renewable resources, wooden toys also have many other benefits. They last much longer than plastic and rubber-based toys, are easy to clean and care for and are usually recyclable. Though recent generations have been saturated with plastic toys, the rise of wooden baby toys is returning. We have all the best wooden toys for babies compiled here. We've highlighted some key features and brands that we think are doing great things to help the environment, while also making sturdy toys for our children.
Below is our reviews, you can read a little more about the benefits of wooden toys, in addition to why we think you should buy them for your children.
Best Wooden Toys: Comparison Table
In this comparison chart, we've got all of the best wooden toys for babies from our reviews below in one easy-to-read place. This way, you can compare cost, popularity, and see what ages each wooden toy is perfect for. If you're on a smaller screen or smartphone, you might have to select the green plus button to expand the table and see more information.
Right now, we've got the wooden toys in our comparison table in the same order as our review section for easy reference.
20 Best Wooden Toys for Babies Review Section
We decided to break down the best wooden toys for babies by category. We've listed some common "stages" of toys that have some amazing wooden options out there. This way, we could not only feature the brands that we like but also give you a few of our favorites from each one.
Natural Teethers and Rattles
Best Natural Teethers for Babies
Unfinished maple wood makes a great solution for those looking to avoid plastic teethers. These natural teethers for babies are completely smooth, and safe for babies' sensitive gums. You can easily wash them by wiping them with warm soapy water. Adding some non-spoiling food-grade oil is also an option to help your baby with teething pain.
Best Wooden Baby Rattles
We love the creativity of these wooden baby rattles, and they are a cute way to introduce your baby to making music. They come in a variety of animal shapes- from porcupines to swallows. Our favorite is the Endangered Animal Set that comes with a long-eared owl, amur leopard, and leatherback turtle. These natural rattles are made from eco-conscious rubberwood, are filled with safe vegetable pellets, and are coated with non-toxic/VOC free water-based paint. It's also noted that users report doubling these wooden baby toys as natural teethers.
This teether activity set is perfect for babies to stay busy and keep their gums from aching. The natural teethers are safe, and smooth and will help the baby's new teeth grow in strong.
This is one of the most interesting baby rattles we've come across, and it's sure to keep your little one occupied and interested! It is constructed of sustainable wood, with a non-toxic water-based finish. Manhattan toys make this as a colorful version or a classic plain wood finish.
LanaCrocheting Wooden Baby Gym frame is very similar to the Baby Love set we also listed. However, it features hand-crocheted pieces from an artist in the UK. We love the uniqueness of these add-on bits. The best part is that you can find everything from flamingos to pineapples to add to your baby's wooden playset!
Meet the Classic: Stacking Rings
My mother always says that every baby needs a set of stacking ring toys. Thankfully there are a lot of beautifully crafted wood stacking rings out there. To kick things off, here are a few of our brand suggestions.

Handcrafted in Thailand, these colorful stacking rings will help your baby start to explore colors and counting, while developing their hand-eye-coordination. The rings and stand are made from all natural organic recycled rubber wood. As an added bonus, the central rod is collapsible to help avoid accidents when there are no rings on the stacker. PlanToy's make some of the best wooden toys in the world, and you will see their brand crop up a few more times due to their pricing, quality, and availability.
Best Wooden Stacker Toy for Toddlers

This is one of the most beautiful stacker toys we've seen, and though it comes with a heftier price tag, it could easily double as room decor when your child loses interest in it during playtime. Grimm makes the best wooden toys for babies out of Germany, and uses only water-based stains (non-toxic) to color the blocks. It is recommended for 18+ month olds, and is available in a smaller version at around half the price.
Another alternative to the plastic stacking ring is this octagon stacker from Camden Rose. The layers are made out of three different baby-safe materials: maple, cherry, and walnut hardwoods. This is a safe and non-toxic toy for toddlers, and it's also very aesthetically pleasing.
Best Wooden Toy Cars
Baby's First Car should be this small grasping and teething car toy from Grimm. It's made with all wooden parts, and is safe for children 6 months of age and older. The unvarnished smooth wood is a perfect material for baby. It's lightweight and easy to grasp as well.
Hape makes some colorful and sturdy toy vehicles for babies and toddlers 10 months and older. They can play with a helpicopter, a mini van, and more! All of the finishes are non toxic.
This beautiful wood train set makes a great gift for new parents to decorate a room with before baby is big enough to play with it. Maple Landmark lets you customize the the name you'd like to be displayed with a beautiful assortment of non-toxic colors. Just be sure to select and pay for the train with the correct number of letters included!
Blocks and Fine Motor Skills Development
Best Wooden Blocks for 1 Year Old
With smooth rounded edges, these are by far the best wooden blocks for baby to play with early on. They are made from softer hardwoods that are often used as natural teethers. The set comes with 21 pieces in a canvas storage bag. As baby grows, it will also be a perfect way to expose your toddler to numbers and letters.
Shape and sort blocks are a great first wooden blocks set for your baby. It will help with hand eye coordination and early problem solving development as well. As a bonus, the box also serves as storage for the organic rubberwood blocks to help minimize clean up effort.
Best Wooden Blocks for Toddlers
If you're looking for a larger set for toddlers, look no further. The MOD Complete set of building blocks comes with 64 pieces, including a storage box. They are constructed from New Zealand Natural Pinewood.
When your child has moved a little further along in the development of fine motor skills, a more advanced "wood block" set might be a good idea. Though small, these honeycomb shaped blocks can add more challenge to the traditional stack. The wooden tongs can be used to place the bee's in their color coordinated hive one by one. To sum things up, we love the concept, colors, and execution of this great all natural toy!
Wooden Toys to Encourage Movement
Pull toys are a great motivator for getting baby up and moving. The dancing alligator is an adorable pet for them to pull around and is sturdy enough to last!
Rocking Horses are fun, but how much more fun is a whole boat?! This adorable award winning Wooden Toddler Rocking Ride On Boat uses a minimalist design in a bold way. Rocking toys promote dexterity, creativity, and storytelling.
Mover's Wooden Baby Walker toy is perfect for your child or children to play with and develop walking skills. They can ride on it, or use it as a wagon to transport toys. Furthermore, the rubber wheels work like bumpers to avoid unwanted accidents.
Toys that Stimulate the Imagination
Best Wooden Play Kitchen for Toddler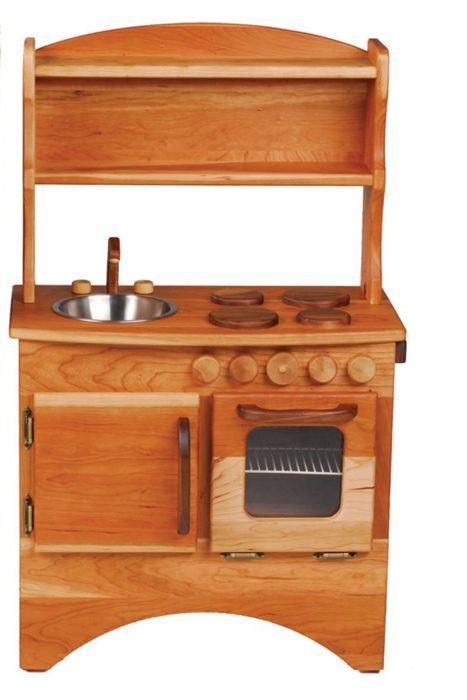 We never knew that play kitchens could be so beautiful! This gorgeous Simple Hearth kitchen set comes in Cherry and Maple Wood, with functional doors, knobs, and a pull-out cutting board. This is by far the best wooden play kitchen for your toddlers, and you can even find wooden food and accessories for it as well.
Instead of the traditional parking grage play set, try this last suggestion from PlanToys. This set will encourage imagination and motor skills development. You can purchase plenty of extra cars and people for it as well.
Benefits of Natural Wood Toys for Baby and Kids
Your child's development will not be hindered if you choose to avoid plastic and other manufactured toys that produce excessive waste. Many of the popular baby toys that you want to get your children can be found made from wood or materials other than plastic, which well help to shrink your carbon footprint.
With wooden toys, they are often a larger upfront investment. However, wood baby toys aren't as prone to breaking, and will likely last long enough to pass on to another generation. Another option is buying used, or buying new and restoring/reselling the wooden baby toys when your child outgrows them.
Look for Baby Safe Wood and Finishes
The best wooden toys for babies are made from the best natural wood resources. Keep and eye out for baby toys and furniture that are made from particle board or plywood as they may contain formaldehyde. Also, take notes of paints and sealants that are used on wood toys, as they too can contain contaminants and allergens.
[line]