In this article, we will be taking a look at the best food dehydrators and breaking down their features and benefits in our comparison table and review section. Using a food dehydrator helps families, hunters, and anyone who likes to make their own food and save money in the process. Two popular treats people make with dehydrators are jerky and fruit leathers.
Demand for food dehydrators has steadily grown as more people turn to healthier options. There is also a growing interest in learning food preservation methods which have likewise increased their popularity.
What's Here
There are a few key things to look for when shopping for a food dehydrator. On this page, we have sections about the food dehydrating process, the benefits of dehydrating food, a food dehydrator selection guide, and in-depth reviews of 5 popular food dehydrators.
We also include a comparison table below of the best food dehydrators on the market. Our pages are updated regularly so you're always viewing the freshest information and latest products.
15 Best Food Dehydrators Comparison Table
This is our comparison table of the best food dehydrators, featuring 15 of the most popular food dehydrators in one easy-to-browse table. The products are sorted by price ascending, to make it easy for you to compare features within your budget.
For mobile users, you will see a compact price ascending list instead of the full table for easier viewing. No worries, it still has all the info just in a mobile-optimized format. Simply select the green plus buttons to expand the table.
Food Dehydrator Reviews Section: 15 Best Dehydrators for 2021
Welcome to our in-depth food dehydrator reviews section. Here we take a closer look at some of the most popular options. In recent years, many manufacturers have moved into the food dehydrator space which has resulted in much greater competition. The benefit for the consumer is reduced cost, but it also means there are many more to choose from!
We've put them in price order just like the chart above, except for our two recommendations for the best jerky dehydrator. You'll find those at the bottom along with some information about what sets them apart.
Recommended Budget Food Dehydrators: Under $100
To get started, check out these budget food dehydrator reviews. In this price category, you'll find many stackable dehydrators. If you want more features, you'll likely have to spend more. These food dehydrators won't break your bank and will still do a fine job.
If you're still not sure about this whole food dehydration thing and want to keep your investment to a minimum this is the dehydrator for you. Of course, as they say, you get what you pay for, and this dehydrator lacks both a timer and an adjustable thermostat. It's sort of a one temp fits all for food drying with this dehydrator, and the default temperature is set at about 155 degrees Fahrenheit.
What does this mean for you? You just need to be around periodically to check on it and be extremely careful with leaving certain foods in there for too long.
Other Features
And it still gets the job done, albeit not precisely. You can dry fruits, vegetables, herbs, spices, and jerky with this unit. It comes with 4 trays that can be expanded up to 8 (which are fully dish washer safe), a 600-watt bottom mounted fan and a see-through cover on the top tray that helps you discover when your food is about done drying.
Another convenient thing is that Presto does have a variety of expansion kits available so if you do decide to get more serious about food dehydration you can add additional trays and purchase kits such as nonstick mesh screens and jerky kits.
Dimensions: 15"H x 6.5"W x 14.8"D
Weight: 7.5lbs
Material: Plastic
Trays: 4 (expandable to 8)
The Snackmaster by Nesco is one of the most popular food dehydrators on the market. Although it uses a stackable tray design, with its top-mounted fan the performance is still exceptional, thoroughly and evenly drying food with ease. The fan is a beefy 700-watt unit, which means it's powerful enough to handle the stacked design.
The Snackmaster has 5 drying trays (but is expandable to 12 with optional, sold separately "Add-A-Trays"), and has an adjustable thermostat that ranges from 95 degrees to 160 degrees Fahrenheit. Another feature we like about this model from Nesco is that it comes with a handy reference labeling system that shows you the optimal drying temperature for specific foods.
Other Features
This model is perfect for beginner and intermediate food dryers alike, the price is right and you get added bonus goodies including a recipe book, 2 solid sheets, 2 mesh sheets, and 3 jerky spice packets to help you get started on the right foot in your food drying explorations.
Dimensions: 13"H x 13"W x 10"D
Weight: 6.8lbs
Material: BPA-Free Plastic
Trays: 5 (expandable to 12)
The NutriChef Kitchen Electric Countertop Food Dehydrator is a multi-tier electric pro food dehydrator under $100. It comes with 5 removable trays in order to quickly load and stack this countertop application. This system has a maximum temp of 180 degrees, so it can handle everything from fruits to thick meats.
The heat circulation is appropriate for shrinking food while retaining 97% of the nutrients you need from your dehydrated foods. We highly suggest that this NutriChef model as a gift for the one in your life who is ready to start preserving foods!
Dimensions: 7.5"H x 12"W x 13"D
Weight: 6.9lbs
Material: Plastic
Trays: 5
This Cuisinart Dehydrator is similar to the NutriChef in both style and operation. The adjustable heat settings come in 4 levels: Fan, Low, Medium, and High Heat- so dehydration is not an exact science with this appliance. Additional trays are available to purchase separately, giving you the option of using up to 9 different levels at a time.
Dimensions: 12.4"H x 14.7"W x 11.8"D
Weight: 9.6lbs
Material: Plastic
Trays: 5
A new shape on our list so far, this rectangular L'EQUIP allows for a centralized airflow design that more evenly distributes the heat throughout the contents. You can add extra trays to stack this baby 12 deep, and maximize its efficiency. It's energy-efficient, using only 530 Watts to dry out foods. The temperature control is a bit more exact, allowing you to set the dehydrator anywhere between 95-100 degrees Fahrenheit.
Dimensions: 10"H x 17"W x 11.8"D
Weight: 11lbs
Material: Plastic
Trays: 6 (12 Max)
Recommended Mid-Range Food Dehydrators: $100-$300
These horizontal drying units offer a practical balance of size, price, and features.
If you have had any experience food drying, you have probably heard of Excalibur Food Dehydrators. They are like the Kitchen Aid of the food dehydrator world. Excalibur claims they manufacture "America's Best Dehydrator" and it's a hard one to refute. They've been in business since 1973, manufacturing dehydrators for over 30 years in Sacramento, California. If you're a market leader for decades, you know you're doing something right.
This is actually one of their lower-priced economy options. It won't be able to handle as large of loads as dehydrators with 8+ trays. That said, its five tray design is more than adequate for most users' needs and takes up less space. It comes fitted with 5 shelf trays, sports 8 square feet drying chamber, and the necessary adjustable thermostat.
The one drawback is that this dehydrator does not have a self-timer so you may want to purchase a wall timer if you're doing long drying cycles to help you keep track. The trays are removable and washable, and each tray has a plastic bottom that can also be taken off and washed easily.
Other Features
The 5" inch fan is powered by 440 watts, which may seem low compared to some of the other models we look at but is more than sufficient for this smaller unit. The fan is located in the back of the unit rather than the bottom which ensures food dries thoroughly and evenly.
Excalibur dehydrators have received the most praise from users for their consistent drying results. The rear-mounted fan and heating element are optimally positioned and designed. Chicago-based company Metropolis Beef Jerky Company claims that the Excalibur performed better than other units. The Excalibur dried 8 pounds of jerky in 5 hours while other units averaged about 4 pounds per 4 hours. It is nearly twice as fast.
Excalibur also backs this dehydrator with a 5-year warranty (they have the best warranty's in the business). From what we've heard they aren't stingy about shipping replacement parts either if something happens to go amiss.
Dimensions: 8.5″H x 17″W x 19″D
Weight: 15lbs
Material: Plastic
Trays: 5
The 3926TB is a step up from the XTD 500W. The key difference is a whopping 9 trays (4 additional trays). If you're doing a lot of batches, this is one of the ultimate solutions for food dehydration. It's a beast of a machine, weighing in at 22 pounds. It is ready for heavy-duty use.
Excalibur asserts you shouldn't waste your money on lesser models, "if you're serious about food dehydrating you'll end up buying an Excalibur anyway." There may be some sense to that, particularly if you know you're in the food dehydrating game for the long haul.
Excalibur backs this model with a 10-year warrant—double that of the 2500ECB warranty. The chamber is about 15 square feet and holds 9 trays for those times you get into the mood to set up that mass production line. Excalibur has chosen to also implement the shelf tray design with this unit.
Other Features
They also applied what they dubbed the hyperwave fluctuation technology as well as their patented parallex horizontal airflow design, a way to evenly heat food while simultaneously keeping the food temperature low and the air temperature high. They claim this allows the food enzymes to remain active while preventing yeast and bacteria and mold from rearing their ugly, unwanted head.
The jury is out on whether this fancily named technology is groundbreaking or not, but the bottom line is Excalibur has legions of happy customers for a reason.
The built-in self-timer allows you to set a cutoff point of up to 26 hours. Of course, it comes with the critical adjustable thermostat allowing temp control from 105 to 165 degrees Fahrenheit. If you have a large family, a large garden, is a dedicated sportsman or crafts-person, or just plan on doing things in bulk, this is the one for you.
Dimensions: 12.5"H x 17"W x 19"D
Weight: 22lbs
Material: Plastic
Trays: 9
With a programmable digital timer, the Gardenmaster Food Dehydrator will save you time and stress, as you can simply set it and go about your day as it does all the work for you. The airflow technology used to design the tray is patented to give the best heat distribution throughout all of the trays within the dehydrator.
The best part about this dehydrator? It's capacity. When you purchase trays individually, you can stack them up to 20 high and still have superb results. The thermostat can be adjusted between 90 and 160 degrees Fahrenheit, allowing for prime results no matter what food you are drying out.
Dimensions: 15.5"H x 15.5"W x 9.5"D
Weight: 8.95lbs
Material: Plastic
Trays: 4 (20 Max)
The Magic Mill professional food dehydrator is available in a variety of sizes to fit the needs of your drying specifications. We suggest the 6 Stainless Steel Tray option, which will give you plenty of space without costing you too much. Featuring a rear-mounted fan, the system won't overheat even after multiple batches in a day.
The digital thermostat and timer allow you to dehydrate foods to their exact specifications. The results? Perfectly dried snacks to put in your pantry. Magic Mill food dehydrator is also backed by a 1 Year Limited Warranty, so you can feel confident in your purchase.
Dimensions: 13.5"H x 15"W x 19"D
Weight: 16.7lbs
Material: Stainless Steel
Trays: 6
If you're looking for a large-capacity home food dehydrator, look no further. The racks within this machine hold A LOT of food, and the circulating air system will regulate the heat evenly so that you don't have to rotate trays- even when they are full. Each tray is made of BPA-free plastic and holds up to 1 pound of food.
Dimensions: 13.58"H x 17.72"W x 12.4"D
Weight: 11.68lbs
Material: Plastic
Trays: 6
Recommended High-End Food Dehydrator ($300+)
Dehydrators in this category have hefty price tags but come with all the bells and whistles.
Some people just gotta have stainless steel. We respect that, if you want something that's going to stand the test of time, TSM's Stainless Steel Food Dehydrator is up to the task.
As you probably know, stainless steel doesn't just have a rust-resistant coating, the entire product itself is corrosion resistant from inside to out. It's so dang expensive because manufacturers add about ten percent chromium to the steel, and chromium is a pretty rare substance and consequently rather expensive.
In the food dehydrator space, you pay an added premium for stainless steel. This is mainly because every single rack is a uniquely crafted solid stainless steel piece.
Other Features
Beyond its stainless steel body, TSM's Food Dehydrator is endowed with an 800-watt heating element and fan, your customary adjustable thermostat, and 5 shelves. The back panel and trays are all removable for easy cleaning. The rack design on the inside minimizes grooves and hard-to-reach places, so interior cleaning is also a breeze.
It has many air vents — the front panel alone has 9 vents — as you don't want an air-tight seal when dehydrating as the moisture from the food needs a place to escape.
Dimensions: 11.5"H x 16.75"W x 19.25"D
Weight: 20lbs
Material: Stainless Steel
Trays: 5
Maximize space with 15 Square Feet of drying room using the Excalibur D900CDSHD. If you are dehydrating food, herbs, or flowers on a commercial scale, for a restaurant, store, or small market- this one is for you. It includes a guide, that will give you precise instructions on making the most of your Excalibur dehydrator no matter what you use it for. The thermostat is easily adjustable, and the timer can be set for up to 26 hours- for slow and precise drying.
Dimensions: 21.9"H x 19.3"W x 15.7"D
Weight: 36.6lbs
Material: Stainless Steel
Trays: 9
Recommended Commercial Grade Food Dehydrator
Commercial dehydrator models are built to handle a high volume of food and last a very long time.

For the most part, TSM's giant dehydrator is kind of ridiculous for residential users. But some avid hunters and huge families may have their sights set on a commercial-grade option. It's clearly not the right food dehydrator model for most people — but that does not mean it isn't pretty awesome.
This is basically the Ferrari of food dehydrators. Sporting a total of 3200 watts and 4 heating elements, you'll be armed to turn a whole deer into jerky in no time.
Other Features
It is a hefty unit, weighing in at about 110 pounds. With a slick and user-friendly digital touchscreen, immaculate craftsmanship, 3-speed motor, and stainless steel body and shelves, you can begin to see how TSM came up with its price point. Fortunately, shipping comes free of charge. A few thousand dollars is a tall order, though in the price range of most commercial dehydrators.
Dimensions: 22.2"H x 22.4"W x 33"D
Weight: 108lbs
Material: Stainless Steel
Trays: 14
Best Dehydrators for Making Beef Jerky
Jerky is definitely one of those things that can be hit or miss, so remember that your first time might not turn out right in terms of flavor or consistency because it takes practice. We recommending trying multiple flavors in smaller-sized batches instead of doing one all at once.
Dehydrating beef jerky is more difficult than most fruits and herbs, but with a little practice, you will master the art and will no longer have to pay absurd retail prices for jerky at grocery stores and the like.
Another tip:
Try Dehydrating Different Types of Meat
While harder to find, meats such as Elk or Deer are much gamier and lean than beef and can be made into delicious jerky that will impress friends and family. A meat dehydrator for jerky will make short work of most types of meats, quickly drying them out and preserving the meat making it ready for packaging.
There are some dehydrators that are made specifically for dehydrating beef jerky. Finding the right beef jerky dehydrator and jerky maker might help increase your ability to make multiple kinds of dried foods all at once.
If you're looking for a package deal beef jerky maker and gun, Nesco has a great solution for you. Nesco has made a name for itself in the meat dehydrator business. They created a dehydrator specifically for making homemade beef jerky that includes spice and cure packets, along with a jerky gun for ground meats.
This Nesco dehydrator requires no tray rotation in order to cook your jerky evenly. It is a fixed-temperature unit so therefore you can be assured that you will receive the same delicious results every time. As long as you are using the included jerky gun you can guarantee this.
Dimensions: 14"H x 14"W x 9"D
Weight: 5.5lbs
Material: Plastic
Trays: 4
You can quickly make some delicious treats with this dehydrator for beef jerky, which has been made specifically for meat dehydrating. It is built with 5 high capacity rotating trays and a two-vent system that we recommend for at home or camping.
It's a smaller size and will work well on any sort of meats from hunting or fishing season. The price makes it a reasonable gift for the jerky lover in your life.
We would say that this is the best beef jerky dehydrator for beginners, or those looking to dabble before making a commitment to a larger more efficient dehydrator for meat, or a smoker.
Dimensions: 13.4"H x 13.2"W x 11.2"D
Weight: 5.35lbs
Material: Plastic
Trays: 5
A Short History of Food Dehydration
Dehydrating food is a technique that has been around for centuries. Originally food was laid atop a flat rock, below the hot summer sun to dry out. Native Americans used this method to preserve vegetables, fruits, and animal proteins after gathering. As their methods improved, they started hanging the food from racks constructed with wood branches. The food would hang in direct sunlight and dry thoroughly. They could then store it for long periods of time without fear of it spoiling.
This fear was very real back then. Spoiled food could mean long bouts of rationing or even starvation. They simply did not have refrigerators, freezers, and canning techniques that we have today.
While the sun can be an effective way to dry food, it is not the best nowadays. For one, the sun is not always shining, especially in cold climates. Furthermore, even when the sun is shining the heat provided by the sun's rays is inconsistent. This is where a food dehydrator comes in handy. It wasn't until 1795 that the first dehydrator was introduced in France.
What is a Food Dehydrator?
Food dehydrating is the process of removing water from food by circulating hot, dry air through the food. This is done at a temperature low enough not to cook the food. When food is dried using this process, it inhibits the growth of bacteria, yeast, mold, and other microorganisms (aka enzymes). This method has been used for thousands of years and is traditionally executed through evaporation by using the sun to dry foods. However, with the invention of food dehydrators, the process can be completed much more efficiently and with more consistent results.
Dehydration minimally affects the nutrients of the food. Some foods may taste sweeter because of the water content being removed and thereby increasing the concentration of sugars. Compared with freezing or canning food, food dehydration is the least damaging food preservation method. Here are a few details:
Calorie count is not impacted.
Food retains most of its Vitamin C and all of its Vitamin A.
Fiber and carbohydrates, as well as minerals such as potassium, are retained.
Many companies charge a pretty penny for packaged dehydrated food such as jerky and fruit leathers. Making these healthy treats, yourself isn't as hard as they would like you to think. By dehydrating food, you can make as much as you want at a low cost, and if you have extra it can easily be stored for later.
How Do Food Dehydrators Work?
First things first. We are going to explain the basics of food dehydrators for newcomers. If you're already experienced in the ways of dehydrating you can skip this section.
Food dehydration is the process of drying food by removing water content. Food dehydrators are handy tools that help you get the job done quickly and easily. Many people imagine a food dehydrator being a bulky contraption that takes up a ton of counter-top real estate. While this may have been the case, most models now are easy to store and use. They have small footprints and also consume a small amount of counter space.
On average, dehydrators are roughly 12 inches in diameter. This is about the size of a small crockpot or rice cooker. A dehydrator contains a chamber that holds around 5 to 10 trays. Food dehydrators fall into two main categories: stackable, round units usually made of plastic and those with removable trays constructed of a rigid box.
Food dehydrators use fans to slowly circulate dry, hot air through food items. Heated air flows through the layers of trays and dries the food evenly. The controlled airflow provides more consistent results than the sun. Air is circulated either horizontally or vertically. In most cases, horizontal drying dehydrators perform better than vertical, aka stackable food dehydrators. Uneven heat distribution in the stack of trays where trays closest to the heating element and fan at the base (or top) of the unit dry much faster than trays at the top. You can overcome this problem with diligent tray rotation.
Another issue with stackables is that you have to lift the trays out to check on the ones at the bottom. For such reasons, horizontal dehydrators usually carry a slightly higher price tag than their rounder relatives.
Efficiency
These marvelous little appliances are much more efficient than using an oven both in terms of energy and time. Dehydrators use a relatively low temperature to dry food, keeping the enzymes of your raw food intact while removing additives and preservatives. According to the Institute of Optimum Nutrition food dehydration keeps most of the nutrients intact, especially if the food isn't treated with chemicals or blanched before drying (these techniques are usually only seen in commercial settings). Beta carotene, potassium, magnesium, selenium, and Vitamin C are all preserved in varying amounts.
A food dehydrator also allows you to control the temperature with much greater precision than an oven. Most dehydrators are fitted with adjustable thermostats that control the temperature. This is important when you need to successfully dehydrate at lower temperatures. To preserve more minerals and vitamins, try dehydrating food at lower temperatures.
The Food Dehydrator: A Multipurpose Appliance
Food dehydrators are wonderful multi-tasking tools. While not a kitchen necessity, they surpass the usefulness of most specialty appliances. Outside of drying fruits, vegetables, and meats, some users dehydrate pasta, dry herbs, and flowers, re-crisp popcorn or crackers, and even use them for various arts and crafts such as paper mache.
Companies love to raise the price of commercially dehydrated foods. They advertise the benefits of no additives or preservatives as a way to justify a premium price tag. Furthermore, home dehydrating helps you avoid the toxins and chemicals that are often added to commercially dried fruits and vegetables.
Many people don't realize they can make these same foods themselves for a fraction of the cost.
Love Jerky?
Make it yourself for instead of buying a small, half-full bag for $10 at your local grocery. And that's just the tip of the iceberg. There are many delicious creations dehydrators are capable of making.
Here's an example of some products that you can dehydrate at home to help preserve food and prevent waste! Enjoy the video from YouTube's Justin Rhodes.
Top 8 Benefits of Food Dehydrators
Here are the top benefits of owning a food dehydrator.
Produce Healthy Food
This is one of the main reasons most people are curious about food drying in the first place. Dehydrated vegetables and fruits do not require any added salt, sugar, or preservatives. Additionally, you still get most of the fiber, minerals, and nutrients of the food item.
This saves you extra trips to the grocery store to pick up natural snacks. Think of a pantry stocked with delicious meat jerky, dried apricots and cherries, and some chewy fruit leather.
Food Transparency
An oftentimes overlooked benefit, food transparency essentially means you can tell when your food has been compromised. Unlike canning, which can create a nice home where invisible bacteria can hide, dried food allows you to quickly scan for any unsightly mold.
Preservation
Conventional wisdom says dehydrated food keeps for one year but we've had success keeping items for over 2 years without any mold. Though you are unlikely to want to keep food for that long anyway unless you forget about it or it becomes lost in the nooks and crannies of your spacious pantry, it does give one peace of mind that their food isn't going to go bad in a couple of weeks.
Brigham Young University's Department of Food Science reports some dehydrated food such as grains, rice, and vegetables can be stored for up to 30 years.
Create Delicious Food
There are many recipes that can be found online at no cost that help you make some delightful creations with your handy dandy food dehydrator. Kale chips, crackers, raw veggie burgers, raw bread, and even cake and loaf are just a few of the awesome dehydrator possibilities out there.
This may even encourage children to increase their consumption of greens and healthy food. Instead of candy, dehydrate their favorite fruit and sprinkle in some sugar substitute for healthy snacking!
Versatile Results
Beyond just eating your newly created dry fruits, vegetables, and herbs you can also re-hydrate them for anything from pizza sauce to cobblers. There are a plethora of other creative uses for your dehydrator such as reviving limp potato chips or soggy popcorn.
Dummy-proof
Let's be real. We probably all make a few mistakes every so often (or quite often) when we set out on our food preparation adventures. Food dehydrator temperatures are so low that it's nearly impossible to over-dry your food. It's quite the opposite of the teapot or oven situation, where you will be met with unpleasant sounds or smells if you drift off for an afternoon siesta.
Relatively Inexpensive
Dehydrators are not one of those insanely expensive gizmos that some people perceive them to be. Most run about $60, though you can certainly find more expensive professional models if you can see yourself becoming a heavy user. If you're unsure, we recommend buying one of the less expensive options then upgrading later.
Save Space
This seems a bit counterintuitive at first glance. Yes, the machine itself takes up room, but it shrinks food significantly. This enables you to fit a lot of preserves into a small area—ideal for large families, camping enthusiasts, and anyone with minimal room and a large appetite.
Popular Dehydrated Foods: What You Can Make with a Food Dehydrator
Here are some examples of the types of food you can make with the help of a food dehydrator. Check out this page on Wikipedia for a more comprehensive list.
Remember, the process of dehydration is complete when the majority of water content is removed from the food. That is why a grape appears so much larger than a raisin. By thoroughly drying food items, you also inhibit the growth of microorganisms and bacteria.
This aids in preserving the food. It can then be stored for long periods of time. Dehydrating food also alters the texture of food. This sometimes makes the food taste even more delicious.
Dehydrated Grapes (Raisins):
Dehydrated Assorted Fruits: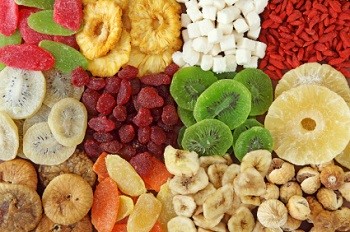 Like the grapes and bananas above, you can dehydrate pretty much any fruit with great success. Citrus, Apples, Mangoes, and more! When dehydrated, fruits still keep a lot of their nutrients, and there's no need to add sugar. They will stay sweet!
Dehydrated Banana Chips:
Perfect for snacking, add them to oatmeal, or cold cereal. Bananas are a great option for beginners just getting into the dehydrated food game.
Dehydrated Tomatoes:
When dehydrated, you can add tomatoes to pasta, pizza, salad, and sandwich wraps.
Dehydrated Mushrooms:
Dehydrated Bellpeppers:
Aside from bell peppers, you can also dehydrate other spicier peppers and use them for cooking! Fresh jalapenos, chili peppers, or habaneros can be perfect to add to homemade canned salsa.
Dehydrated Beef:
Jerky is probably one of the most popular things to dehydrate besides fruit. You can try dehydrating other meats such as salmon, pork, chicken, and more.
Things to Consider Before Buying a Food Dehydrator
While the basic functionality is the same in any food dehydrator, there are a variety of features that distinguish one from the next. The most important thing is the ability to dry food evenly but extra features can also be useful.
Size
Number of Trays. Most food dehydrator units fall between 4 to 10 trays. If you plan on doing a lot of dehydrating and/or have a larger family, you probably want to go bigger. Some trays will also fit in the dishwasher, which makes cleanup much faster.
Max Trays. Most stackable dehydrators include the benefit of being expandable. For example, the Presto 06300 comes with 4 trays but it is expandable to 8 trays. This is nice if further down the road you really get into dehydrating and start making larger batches.
Features
Design. A key difference is whether or not the dehydrator uses stack-able trays or shelf trays. We lean heavily toward recommending shelf tray food dehydrators. This is simply for the reason they generally heat very evenly because of the nature of the horizontal airflow design. However, consumers can find a few excellent stackable tray dehydrators out there that can be trusted to dry food competently.
Power. Ranging from about 125 to 1000 watts, larger units need more power to keep up the temperature. Most units go up to 160 degrees Fahrenheit, though some can only reach 130 degrees.
Extras. Some of the more expensive models have all the bells and whistles. These include digital thermometers, automatic timing, interior lighting, and sometimes they come with kits that include things like jerky guns and special non-stick mats. Some dehydrator deals will include handbooks or recipe books with their units.